Making sustainable agriculture
scalable and profitable
We are an entrepreneurial group that owns an entire farm-to-fork agricultural production chain. In our mission to improve agriculture, we have developed a unique approach: a patented intelligent agro-industry system that integrates and refines traditional knowledge using sustainable innovative technology processes.
Demands for healthy food and ethical sourcing are rapidly increasing. Sustainability is no longer a trend, but has become a necessity for consumers and an agenda with deadlines for nations across the planet to follow very carefully.

EKO AGRO has outlined an industrial process by translating the United Nations guidelines dictated by the 17 SGD Points and Practices "A BETTER WORLD". Through this design, it applied for a patent on the system, naming it TaP (Tech Agrarian Protocol).
Explore the milestones in our journey.
We have consciously and consequently based our whole organisation and work on the UN Sustainable Development Goals. They work as a blueprint to protect our future with strategies to improve health and education, reduce social inequality, spur economic growth and tackle climate change.
LAYING SCIENTIFIC FOUNDATIONS
As scientists and engineers in the field of agriculture, we developed a proprietary protocol compliant with each one of the 17 UN goals, with a simple question in mind: "how can we rejuvenate agriculture in a way where everyone benefits, including future generations?"
ENSURING SUCCESSFUL TRANSFORMATION: TAP - THE TECH AGRARIAN PROTOCOL ​
After years of work our "intelligent agriculture" model TAP was born: a unique formula for turning agriculture into a fair and participatory business for farmers. One which respects the earth and our grandchildren, creates a safe supply chain for consumers, and makes sustainable farming systems both profitable and scalable.
An important thing we have learned from nature, personified by the bee, is that cooperative and interconnective organisations are the most successful. We're actively fostering interdisciplinary exchange and collaboration through a strong ecosystem of partners including local governments, universities, purpose driven investors and industrial partners.
This is where we are today, with the current ongoing acquisition of 6,500 hectares of farmland, farms and agribusinesses, including their treasure trove of knowledge. This is the crucial step, facilitating the scale at which we can apply the TAP protocol.
Our next step will be to implement our smart production systems. As an integral part of the TAP, we believe in the power of technology to increase pace and scale of change. Surveillance systems allow farmers to monitor their sites more efficiently whilst cloud-based IoT operating systems connect products, plants, systems and machines to generate data – for transparency, analysis, improvements and further research.
During the course of this year we will establish nine consortia dedicated to the processing of raw materials including cereals for the production of bread and pasta, milk for cheese and derivatives such as yogurt and butter, meat for the preparation of ready meals, fruit and vegetables washed and packaged ready for use, oil and wine.
We began by following the stated goals of the United Nations for a better planet will sum up in a traceable circular economy with benefits for all; sharing profitability with our farmers, delivering healthy, high quality food to our consumers and bringing back sustainability into the earth once more.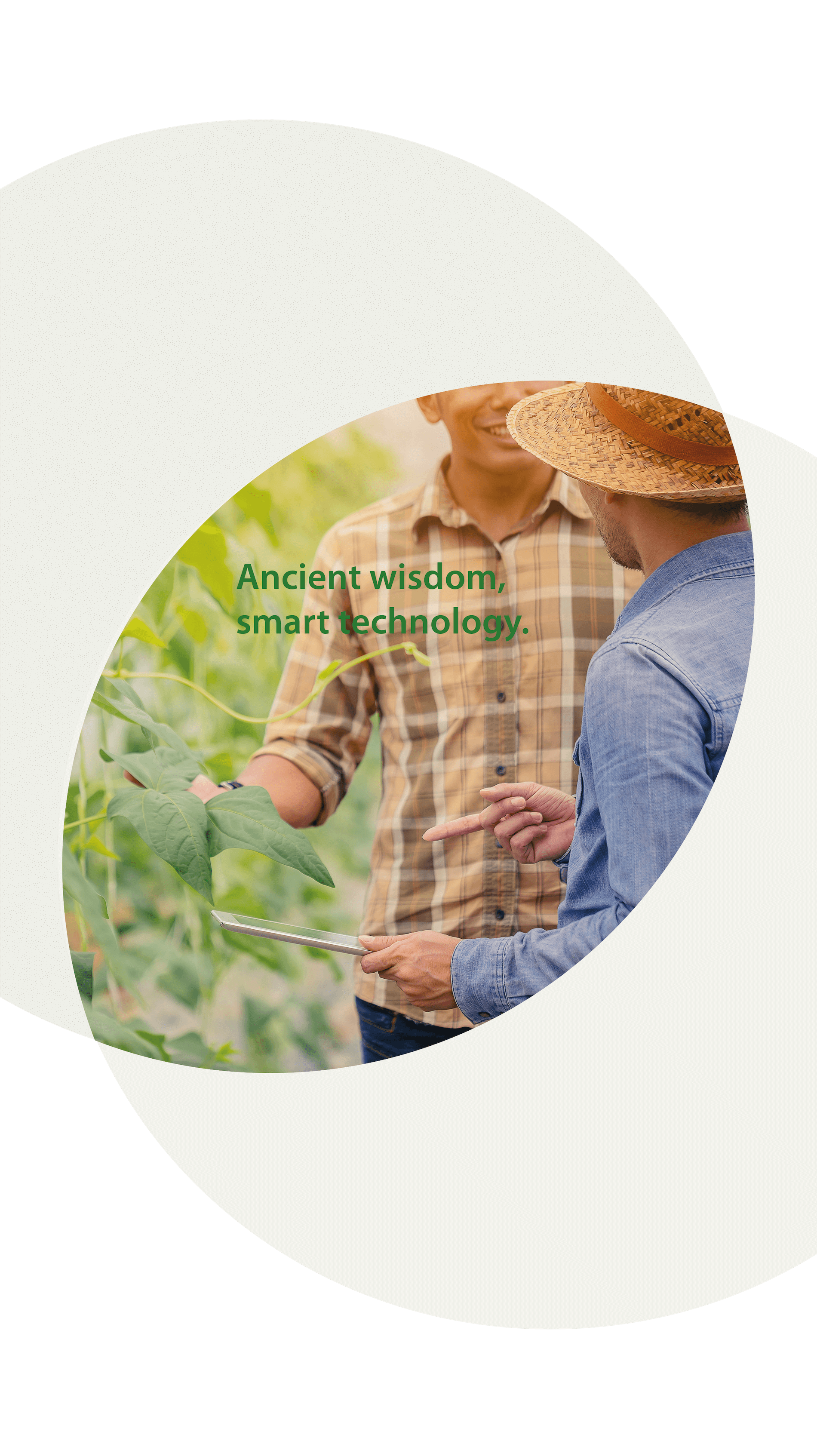 Ancient wisdom,
smart technology.
Replace a food system with high appearance purpose with an innovative and sustainable process with transparency purpose; not only for land and animals but also and especially for people: like the work of many bees in many hives to ensure biodiversity and environmental and social sustainability.


RESETTING OUR ENVIRONMENTAL FOOTPRINT
Our goal is to achieve 100% electricity from renewable sources (geothermal, photovoltaic and cogeneration), this energy production will be provided by one or more plants owned by the Group and will be used not only for industrial agricultural processes but also for staff housing.
Brownfield Requalification
Redevelopment of brownfield areas are foreseen for all of our farms in compliance with governing regulations. These range from repopulation of animals, to crop management of agriculture and seeding.
We take the protection of this natural resource seriously: from reusing it through intelligent greenhouses, to naturally purifying water in breeding areas, to industrial purification prior disposal.
COMPENSATION OF CO2
Despite our full commitment and best intentions, to date, it is still impossible to completely eliminate the emission of CO2 from the agricultural process. Through a complex agro-forestry engineering calculation, we ensure to offset all CO2 consumed during production; thus unequivocally certifying our zero footprint.
With the Region of Tuscany is being defined an agreement for the maintenance of the regional forest park and with the CNR and three Tuscan universities (Florence-Pisa-Siena) we will calculate and implement the Off-Set of CO2. Therefore, every time consumers will buy our products they will actively participate to the sustainability of the environment.
Seeds and Medicinal Herbs
We will allocate part of our agricultural areas for seed production, and part for research and study of medicinal herbs. This is to ensure food quality and safety.
PROTECTING OUR SOCIAL ECONOMY
COMMUNITIES
Farming activities take place in rural areas that are environmentally wonderful, but increasingly difficult for job opportunities. We pay particular attention to respecting and empowering these communities, which are vulnerable to inequality and interference from the large food industry.
Transparency of the food chain: By aiming for absolute transparency during the process of cultivation, production and processing, we want to offer consumers digital access to life cycle management of the products they buy. We aim to reinstate trust and honesty in our communication systems.
We believe in the nobility and significance of farming as a profession. We will offer the use of housing to our agricultural employees, profit-sharing rights, technical training and shared knowledge to everyone in the supply chain. We want farmers to be key players, not the weakest link.
SOURCING CHANGE THROUGH TECHNOLOGY
We will develop an IoT system that manages drones, cameras, sensors, and artificial intelligence through software and communication networks in order to optimize production, administration, and supply chain management. Specific algorithms will be adopted to monitor and predict critical variables such as quality and quantity of water used, soil conditions, air temperature, humidity, thus ensuring a significant impact on the crop, its processing and associated economic returns.
Block chain and communication
We are developing Blockchain innovation and a 24/7 channel access to allow the consumer to authenticate and follow every one of our products. All consumers should be able to know what they are eating in today's food chain<br>
The absolute core of our business, a system to rethink and redesign our approach to the health of the earth and the production of our food. Through a proprietary protocol supported by numerical algorithms, we can effectively quantify compliance with targets during each phase of the supply chain.
Technology solutions for agriculture require continued investment in complex systems acquisitions and in-house research and development, from functional medicine, chemistry, physics and biophysics to quantum mechanics and spectrography.
We will implement a strategic communication platform built in line with TAP principles. A cross media channel that combines thematic television (IPTV) with the interactivity of a web platform. We will provide full traceability and transparency to consumers, improving the "customer experience" and promoting sales.  
LEVERAGING VALUABLE KNOWLEDGE AND PARTNERSHIPS
ESG KNOW-HOW


Environmental, Social Governance (ESG) is a popular acronym at the moment, but above all an essential framework to assess the sustainability of a business. We consider ourselves pretty strong on this front, but regular independent ESG ratings allow us to double check risk mitigation and operational strength, facilitated by our parent company ESGTI AG: ESG Investment specialists.
We collaborate with national, regional and local governments (Tuscany, Umbria and Lazio) on investment activities in brownfield redevelopment and, in particular, job creation opportunities. We have partnerships with government departments, universities, industrial operators, banking and financial institutions, and sustainability experts.
We support ourselves with private investments, mainly provided by our parent company, a Swiss specialist in ESG investments.
Our farmers use ancient and natural techniques which we not only intend to keep, but enhance, share and celebrate.
certifications and legislations
A significant backbone of what we do: from Food Security Certifications, to Farming Standards, Bio certification to National Quality Systems. We do the groundwork and implementation so that farmers can focus on what they do best.
TRUSTING IN THE RIGHT PEOPLE
BOARD OF DIRECTORS


Our Board is composed of high-profile professionals with diverse experience, providing relevant specialist expertise to promote EKO AGRO's long-term sustainable success through the highest standards of corporate governance.
management and operations
From farmers to architects, agribusiness professionals to manufacturers. Our "on the ground" team is highly qualified for day-to-day operation and success.
A dedicated team who drive and support our scientific competencies. All specialists in their fields of expertise, and passionate about our scientific roots.
"Nature is the world's most valuable industry. And it runs perfectly by itself. Our job is not to manipulate but to observe, understand, and apply science and technology to support it's natural modes of operation."
Salvatore Toscano,
Founder and President
ESG EKO AGRO GROUP S.R.L.
Via Castiglione 41
40124 Bologna (BO)
Italy

info@esg-eag.com
Ph: +39 051 273 245